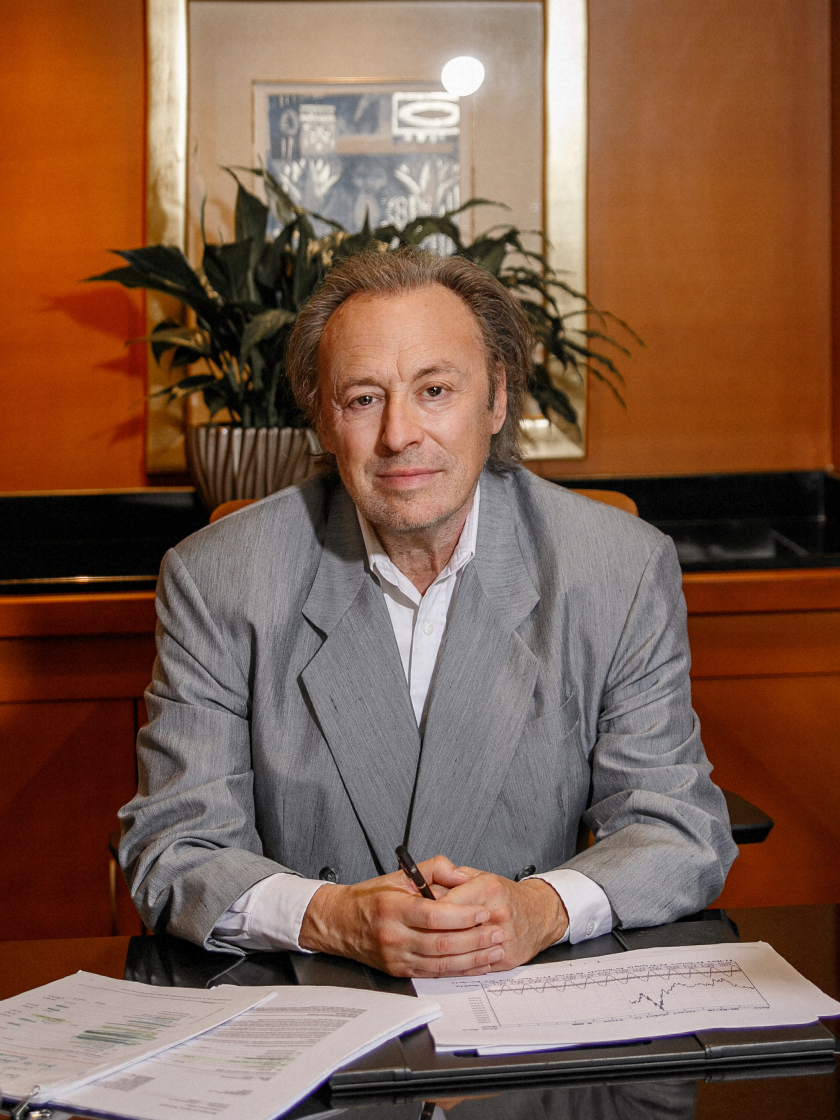 Dr. Charles Nenner was named "one of the legendary technical analysts" by Forbes and his unique system was successfully used by Goldman Sachs for several years
Charles Nenner is the Founder and CEO of Charles Nenner Research Center. Before opening his research firm in 2001, Charles joined Goldman Sachs in New York and London, where he served as Head of Market Timing on Goldman's proprietary trading desk.
Charles Nenner's brief biography
Dr. Charles Nenner was trained as a medical doctor. He first practiced as general surgeon and later as a psychiatrist. While as a medical doctor, he initiated a study to determine what caused a peak in patient admission at certain times. His conclusion was that almost everything fluctuates, mostly in waves or cycles.
A random visit to Wall Street sparked the interest to investigate if cycles would apply to financial markets. The outcome was significant. Dr. Nenner then developed an algorithm combining his cycle system with several other indicators. The result is a very impressive scientific system that predicts financial markets movements with great accuracy.
Dr. Nenner used his system at Merrill Lynch with great success. From there Dr. Nenner went to advise banks, government agencies and finally Goldman Sachs for many years before starting his own Research Center.
1979
Graduated from the University of Amsterdam School of Medicine and worked as a general surgeon and later psychiatrist at the Amsterdam Medical Center.
1985 - 1987
Financial Consultant with Merrill Lynch out of its Amsterdam Office.
1987 – 1989
Director of Research at Windsor NY.
1989 - 1997
Independent technical analyst serving government agents, banks, and brokerage firms.
1997 – 2008
Head of Market Timing, Goldman Sachs & Co in NY & London.
2001 – present time
Founder and President of the Charles Nenner Research Center.
Watch all videos with Dr. Charles Nenner
"Everything is foreseen, yet freedom is granted. This is true regarding the individual, however, for the market, for a large group of people, their ability to influence the collective, is very limited. Therefore, I do not attempt to predict the future of any particular individual, but it is possible to predict the future of a market or a state. You need to understand, that events don't occur without reason. There is a plan. There is a clear line to history."
Watch more videos
See what investors, businesses & governments all over the world say about us
Customers are the lifeblood of our business, so going above and beyond for them is something we strive to do for every interaction.
"Charles is just brilliant. The research is really incredible. I always thought there was no free choice and this system really taps into that idea. Cycles are the only way to go if you have this premise."
– Karl, California
"The services saves me a lot of time, by doing the number crunching for me."
– Vincent, Toronto
"The information you provide, and the accuracy, is rather astounding. As far as I have found, your approach toward cyclical data is the only one yielding reliable results."
– Andrew, Australia
"Charles is a genius. His commentary is brief and accurate. It's the best I've seen in the 20 years I have watched the markets having subscribed to numerous services none the equal of his."
– Henry, Florida
Listen to all podcasts with Dr. Charles Nenner
We want our clients effectively leverage the knowledge, technologies, and professional financial markets data analytics that are critical to their success and growth.
We share our expertise in everything we do to help decision-makers make only informed investments.
Explore more podcasts